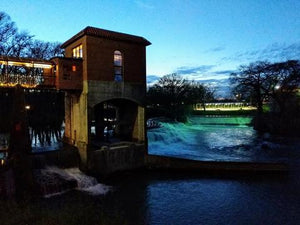 Texas Challenge Wrap Up!
Barb and I have returned from our first long trip of the year...the Texas Challenge. 
Our travels took us from Hilliard, FL to Seguin, TX over 2 days of driving.  First we made a quick stop at the Tallahassee Automobile Museum where we wanted to find a high favorited cache from our good friend Tallahassee-Lassie.  We have driven by here so many times but usually in the dark or when it was raining...this time we hit it at the right time.  Grabbed a great gadget cache Caching Out then headed over to Pink Cadillac.  Both with over 60 plus favorite points each and well deserved. 
Now it was off to Baton Rouge where we stopped for the night.  We arrived in Seguin Thursday afternoon checking into our hotel and then checking out the area a little bit.  Friday we headed over to the Colosseum where the Texas Challenge was being held.  The event hosts rolled out the Texas sized red carpet for us here....and supplied us with a booth space the size of Texas.  We did manage to fill just about all the tables though.  Barb and I set up our items and from 11:00 am until 9:00 we stood and schmoozed with all our friends from Texas.  
Saturday morning we reported for duty at the ungodly hour of 7:00 am.  We stood and vended until after 5:00 pm.  We had an amazing time with friends.  We loaded up the truck and headed to a local establishment for some refreshments and food.  We opted for a cool place called the Seguin Power Plant Texas Grill.  
They were pretty slammed that night so service was a bit slow but the food was good the atmosphere pleasant...we would definitely go there again.  The view is awesome overlooking the Guadalupe River and Dam.  
Sunday morning we checked out of our hotel and headed over to Park West a local park where we were hosting a Munzee event.  We had 25 players attend on a very gloomy overcast day.  Folks were happy to see all the items we had including our famous player book.  After the event it was time to grab a few local caches including the all new Adventure Labs from Groundspeak.  These are a new type of cache that do not require a container but coords that bring you to an interesting place where you are required to answer a specific question.  You must get the answer right before getting credit for it.  We had a great time doing these including one that was just over the top.  Off Hwy 90 and 210 just outside of Seguin is a unique stop for sure.  John retired in 2009 and started creating displays of collections and unique creations including several homemade working canons.  If you find yourself in the area look him up.  There is a geocache there called Spongeworthy.
It was time to start heading back to Florida.  We made a pit stop in Baytown, TX to find a geocache.  We then realized there was another Adventure Lab here that was pretty cool.  Here is a pic from one of the stops on the Adventure Lab.  
After finding the first cache we also realized there was an official geo tour.  We completed both and continued our journey back to Florida.  The rest of the trip was pretty uneventful as we needed to make time and get back to the office.  We did stop in Mississippi to unload the truck in a rest area so we could pull several orders and get them shipped out to keep our customers satisfied.  We had a great time on this trip. 
We took last weekend to rest up, but we've got a lot of fun ahead. Follow our next road trip when we head to Alabama in April for several Munzee events!
---